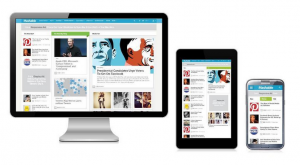 Before you groan about another article on mobile marketing for recruiters just take a minute to scan this one. It is from Andy Whitehead. As business owners we only need to look at our own behaviour to appreciate that surfing on a mobile or tablet device is increasing. A few weeks ago I was on a train coming back from a London. In the carriage where I was sitting I counted that 89% of people where either on a mobile laptop Ipad or had one next to them ! Whatever happened to looking out the window or reading a book ?
This is common behaviour I am sure you would all agree.  As a recruitment business you need to plan for this moving forward. If your website is not mobile friendly make sure you factor that in when you next update it. The buzz word is responsive design. You can read an article all about it here from the respected mashable review website. Responsive design is certainly the way forward. We strongly recommend this to any of our clients that are interested in updating and upgrading their  recruitment websites. Over to Andy who has some great facts to share.
When you have been running your recruitment business in a traditional way, it is easy to underestimate the power and growth potential of going digital. The key component when developing any business objective is to start with the end in mind. Do we want more clients? Do we want higher calibre of candidates? What sectors do we wish to become the master of in 6 months? What are our most profitable hires? How do our candidates find us? Clarity and metrics are key.
When you know the business objective we can then create a targeted systematic plan. There is too much to discuss on full mobile strategy here. The first thing I want to do is to ignite the fire that "Mobile in recruitment is (becoming) King".
If you have not woken up to going mobile, check these figures.
·         1 in 5 of all job searches now made via mobile (Google)
·         30% of company traffic is now coming from a mobile device (WRC)
·         63% of passive candidates used mobile to search for their next role (Educate)
·         90% of smart phone users use mobile to read emails and search the web (ALP)
·         61% of users will go to a competitor site if you do not have a mobile site (Forbes)
Business Impact – Are You Losing 30% of Your Business?
These results are very clear. If you are not implementing a cohesive mobile strategy in your recruitment process you are losing direct business. Job applications through your website needs to be strategic and streamlined.
The figures of potential lost candidates are as follows. Google state that 40% of mobile visitors who arrived on a non mobile-enabled website (and had a bad experience) would go to a competitor. One in five of all job searches (20%) are on a mobile. These are big figures and when multiplied by value per candidate, the figure will be in the 5 figures for a smaller agency and 6 figures for a larger agency across 12 months. From a plain business perspective. You are losing candidates and clients.
Before you all panic. Stop and think through this. Yes it is important and as long as this is part of your strategic marketing plan moving forward you will be fine. Are responsive designs more expensive ? Yes and  related to lost revenue in lost placements absolutely nothing!